New Day ReUse is a 501C3 NonProfit Organization, In order to operate with a strong positive sustainable Environmental & Community growth development We need the community support by Donating unwanted Clothing & Footwear to help our organization help the environment & the Community. Proceeds raised from the sale of the end of use donations will go towards funding the Day to Day operations of the New Day ReUse projects Waste Reduction & Helping those in need with free Clothing & Footwear, and operating the Waste Reduction Network Directory.
Your Tax Deductible Financial contributions are appreciated & needed to help us with our day to day operations of the New Day Reuse Mission & project.  Thank you for the support we truly appreciate it.
Thank you for making it possible for us to be able to help those in need.
New Day ReUse, 501(C)(3) Not For Profit Waste Reduction Network Is fully focused on helping reduce waste of Textiles, Books, Food, Retailer resets, and more. We accept items to Reuse, and give to partner Charities to distribute to those in need, The waste reduction network Directory site where other organizations can post to give, receive, or accept donations for Reuse and the service is free. The Free Directory is for Charitable organizations anywhere in the universe.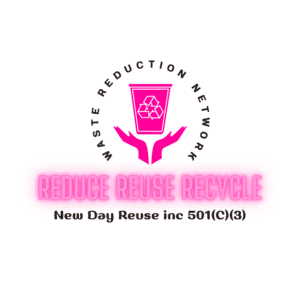 Trained Staff to Collect, Sort, Refurbish, Inspect donations.

Operating the Waste Reduction Directory site. Hosting, security, coding, promotions, site maintenance.

Trucks for collecting the Donations

Employee pay

Licenses & Permits to operate

Industry Training on Safety, Compliance on Refurbishing, Recycling

Warehouse & Storage, Rent, Insurance, Electricity & Water

Insurance for trucks, Recycling Bins, Company, Employees.

Maintenance for Trucks, Trailers, Equipment, Bins

Recycling Bin Maintenance and site placement costs.

Collecting Equipment & Supplies.

Payment to have non usable products sent to a Textile Recycler.

Disposal for waste & Litter left in and around the Recycling Bins.

Community expansion by adding more Recycling Donation bins in more locations.

Additional Recycling Bins cost us $1350 per box Placed per site.