Tax Deductible Boat Donations Accepted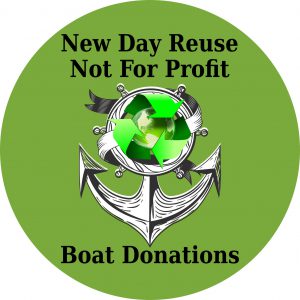 New Day Reuse is a classified 501(c)(3) Not For Profit charity organization. You can check with your tax advisor or accountant to determine the amount of your benefit.The deduction is of value only if the donor itemizes his or her deductions. For a more detailed overview the IRS publishes a Donors Guide to Vehicle Donation.
Thank You for considering New Day ReUse Not For Profit 501(C)(3) as the organization to Donate your Boat to. The funds raised from the sale of the donated Sailboat, Cruiser, Sport Boat, Pontoon Boat, Yacht, Inflatable, or misc Boats will go to assist with our day to day operating expenses to help those in need, and help with reducing landfill waste. Our Daily Expenses add up very fast due to high fuel prices plus cost of maintenance to the Truck and Trailer to pickup and deliver the items we collect.
Saginaw Michigan, Bay City Michigan, Detroit Michigan,  Ann Arbor Michigan, Grand Rapids Michigan, Muskegon Michigan, Grand Blanc Michigan, Current in person service area for our staff to come out and take pictures and or Remove the Boat from location if possible (Boat must be on a trailer to be towed away), Larger Boats can be accepted as well but they will be removed by the buyer in the set time frame in donation agreement. Please understand that Towing & shipping companies may take time to schedule pickup of the boat due to busy schedules. We will direct sell the boat either via local sale or online on our Verified Charity Ebay account. 
Vessel must have a title.
Boat must be on a trailer if you want it removed same day or very soon.
any past due storage or repair fee's must be disclosed before we list or goto pickup the donated boat.
if the trailer needs tires please let us know the number of lugs and tire size so we can bring a tire change to move the boat.
Feel Free to call us to schedule a time for our staff to either pickup or take pictures & gather information of your Boat donation.
The Internal Revenue Service bases the value of the charitable deduction on the actual selling price of the donated boat. This is why our process is more personal of a touch, With our staff taking the pictures and inspecting the condition of your donated boat we can get a greater sale price with giving accurate condition to the potential future buyer. In the near future we do plan on expanding our in person staff to Miami, Ft Lauderdale, Homestead Florida area.
Do we accept Boat donations from other parts of the world where we do not have staff?
Yes we do but please understand that process will be like other Boat donation organizations where you will fill out a form with your accurate description of your accurate vessel and you will also need to email our staff pictures of the outside and inside of the boat. 
We don't use a middleman
By keeping our process in house, we cut out the extra costs often incurred by other charities. This means a higher percentage of your donation goes to help those in need, and Reduce Landfill waste.
Stop Paying Maintenance Fees Skip paying expensive long term docking fees and unnecessary insurance. Donate now before you accumulate all those fees.
Save Money On Your Taxes If your boat sells for more than $500 your receipt will be for the sale price. Otherwise you claim the fair market value of the boat, up to $500.
Examples of some of the brands of boats we accept as Donations but not limited to.
Bayliner, Catalina, Carver, Hatteras, Egg Harbor, Ferreti yacht, Cigarette, Sonic, C&C, O'Day, Macgregor, S2, Pearson, Hunter, Santa Cruz, Bavaria, Dufour, Beneteau and Columbia, Bass Bugy, Boston Whaler, Chaparral, Grady-White, Lund, MasterCraft, Sea Ray, Tracker Boats, Yamaha, Viking Yachts, Honda Marine, Yamaha Marine, Suzuki Marine, Kawasaki Marine, Tohatsu outboard motors, Mercury Marine, Mariner Outboards, Salt Water Boats, Fresh Water boats, Robalo, Magnum Marine, Baha, Zodiac, Sea-Doo, Jet Ski, Hobie, Watercraft, PWC.
Styles of Boats accepted as Donations.
Sailboats, Trimaran, Personal Watercrafts, Sail Boards, Offshore Boats, Ski Boats, Scarabs, Fishing Boats, John Boats, Inflatables, Canoe, Kayaks, Recreational Boats, River Cruisers, Houseboats, Yachts, Day Sailors, Trailer Sailor, catamaran, Boat Trailers, Sailboat Trailers, And many more.